Jahnet's Holistics
CHARCOAL PEPPERMINT DETOX DEODORANT (2.5 oz)
Regular price
Sale price
$15.00 USD
Unit price
per
Sale
Sold out
SUGGESTED USE: Apply to clean dry underarms as needed. 
WHAT TO EXPECT
 Your pores are releasing toxins and impurities that have accumulated in your armpits.  Your body may sweat more than usual, it's normal to experience some underarm odor during this stage., which can last 1-2 weeks. 
 Drink lots of water to assist with flushing out the toxins. Use the Detox deodorant at night to help remove toxins while you sleep, or right before you work out when you'll be sweating a lot anyway.
Your pores have flushed out about 50% of toxins and impurities and is starting to function naturally. Sweating and odor will subside.
Detoxification: Charcoal is known for its detoxifying properties. It helps draw out toxins and impurities from the skin, including the underarms. This can help reduce odor and promote a cleaner, fresher feeling.

Odor Control: Peppermint essential oil has a refreshing scent that can help mask unpleasant odors. When combined with activated charcoal, it can provide effective odor control throughout the day.

Natural Ingredients: Charcoal peppermint detox deodorants often use natural ingredients, avoiding harmful chemicals and synthetic fragrances found in conventional deodorants. This can be beneficial for those with sensitive skin or those looking for more natural alternatives.

Moisturization: Some charcoal peppermint detox deodorants contain moisturizing ingredients like tallow from grass-fed cows. These ingredients can help keep the underarm area hydrated and prevent dryness or irritation.

Gentle Formula: Baking soda-free formulas are available for those who may be sensitive to baking soda. These formulas can provide a more gentle and effective deodorant option.

Antibacterial Properties: Peppermint essential oil has natural antibacterial properties, which can help combat odor-causing bacteria in the underarm area.

Exfoliation: Charcoal has exfoliating properties that can help remove dead skin cells and unclog pores. This can lead to smoother and healthier-looking underarms.
Ingredients: Coconut Oil, Arrowroot Powder, Baking Soda, Grapeseed Oil, Peppermint Essential Oil, Activated Charcoal, Bentonite Clay, Beeswax
Share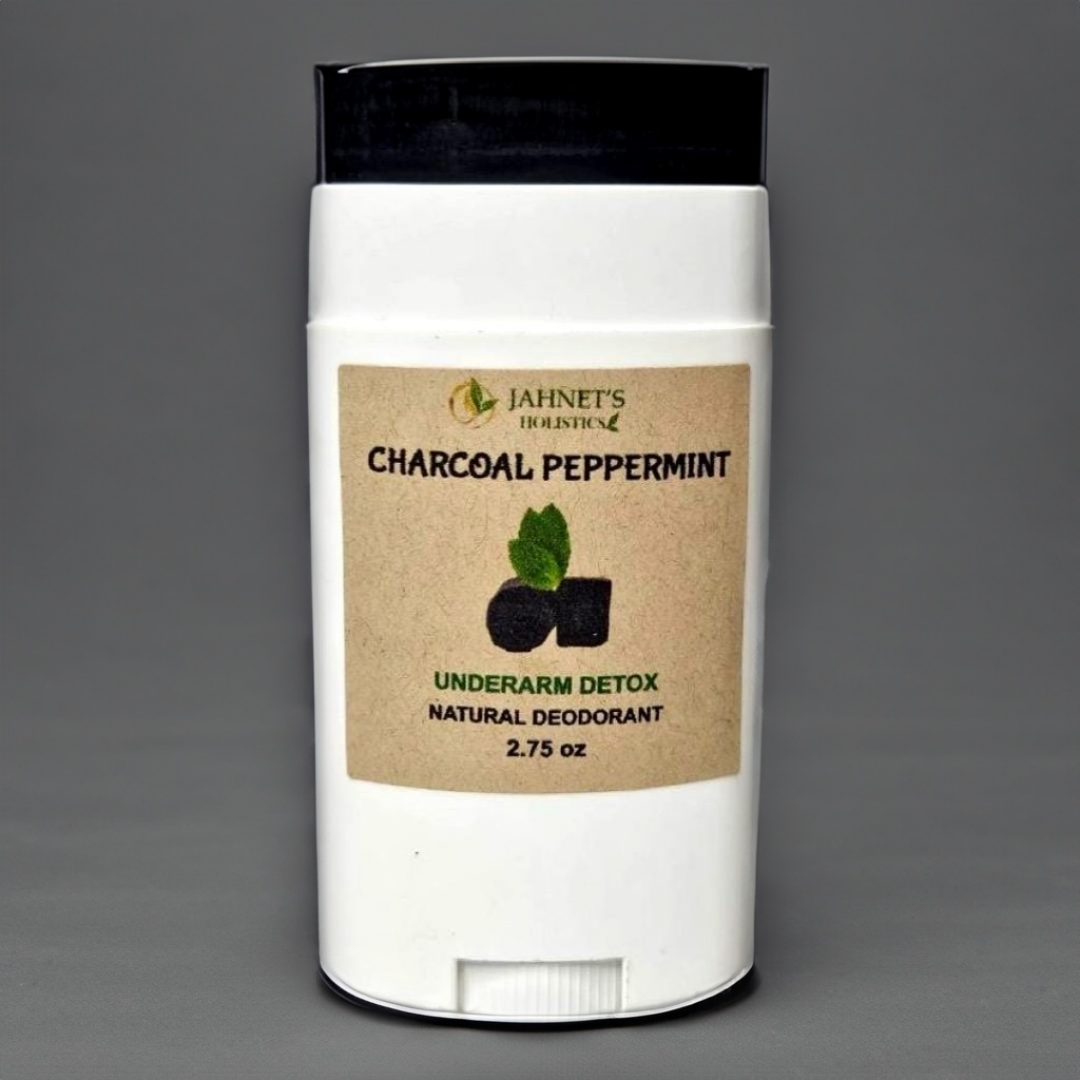 Answer your customers' common questions
List a frequently asked question

Then provide an answer that will help your customer make an informed purchase.
List another frequently asked question
List another frequently asked question